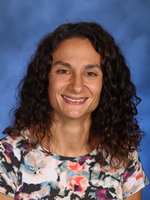 Dear Blissfield Middle School Families-

The middle school staff and I are looking forward to a great year with your students! The 2022-23 school year will be my first as a principal, but 23rd in education. Many of you may know me from teaching math at Blissfield High School for the past 20 years. Middle school is a great time for the children to blossom into responsible young adults. Thank you in advance for both your involvement and the trust you put in us to help your child grow!

The daily schedule for BMS will remain the same and can be found on the website. The school
day is 7:40 - 2:40. Students' schedules are available in Infinite Campus. We value
communication and therefore it is important that your contact information in Infinite Campus is
updated and accurate. If you need assistance with Infinite Campus, please contact Kris Knierim
at 517-486-4420.

Developing good habits is an important part of being a successful young adult. One habit we
value is that of being present at school. The attendance policy, as well as other important
information is available in the student handbook. Please take the time to read through the
handbook with your student.

Throughout the year, your students will have the opportunity to conduct themselves with PRIDE.
PRIDE represents the PBIS (Positive Behavior Interventions and Supports) expectations for the
middle school. We value: Preparation, Respect, Integrity, Determination, and Encouragement.
These values will help the students develop character, intellect, wellness, and a desire for
lifelong learning.

Again, we are looking forward to a great school year and working together with you to help your
student become the best they can be! Feel free to call the middle school office at 517-486-4420
if you have any questions.

Sincerely,
Laura Denkins
Blissfield Middle School Principal