After the 5th grade students finished the Blissfield Downtown Community Service project, they were asked to do a responsive writing. The prompt was: "As a fifth grade we just finished a community service project of growing plants for the city of Blissfield within the BELL. Reflect back on your part of the project from planting of seedlings, caring for them and planting them in Blissfield's urns downtown. Relate how the planting project made you feel as in relationship to being responsible, respectful and safe as stated in the Blissfield Elementary School's Pledge. Please write at least three paragraphs of how this project made you feel." The writing on the right is a response to the prompt.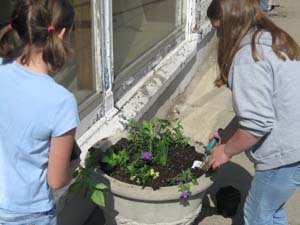 Elementary students transplanted seedlings into larger pots. Fifth grade students cared for the seedlings until weather permitted plants to be transplanted once again in the Blissfield downtown urns. What a great service learning project!
A Reflective Writing on being Responsible, Respectful and Safe
Planting Flowers
Around March 1st this year the fifth grade students started a project that was a great adventure and lasted a long time. It lasted until May when we planted the flowers downtown Blissfield. We learned to be responsible, respectful and safe doing the project!
We started by planting little seedlings in many, many pots all over the BELL (Blissfield Environmental Life Lab) at the elementary building. We all had to be very responsible by planting baby plants into bigger pots so they would be able to grow bigger and stronger. We had to water the plants and pick off dead leaves and flowers almost every day.
When the plants were getting pretty big, because of our special care, we put them in special arrangement trays to be carried to downtown Blissfield. Every fifth grade classroom walked downtown to plant the plants from the trays in urns that decorate the city. We split up into groups of two or three. Each group planted one tray of flowers into one urn. We planted the flowers in the tray in a special order that all the urns would look nice. We were very responsible!
Some people may have been concerned for our safety working along busy US 223. But we were very safe, thanks to Officer Novak who came and blocked off one lane of the road for us to work in safety. We also were safe as we worked and walked to and from the city!
We also had to be very respectful to all the people and the shops around us. We also showed our respect by making the city of Blissfield a prettier place because of the beautiful flowers we planted. We also showed respect to the plants as we planted them and cared for them during this project.
We had lots of fun. Many people said we did a good job. I think we did too. When we were done, Cierra's mom came out of "Tan and More" and gave us Popsicles and water! We were all grateful for that. We were also treated to an "Ice-cream Sundae Party" later in the week. It was a really great experience and we learned to be respectful, responsible and safe!
By a Blissfield 5th Grader